Last updated on December 1, 2021
After you consider the benefits of a clean desk policy and choose to implement one using our free template and poster you'll need to ensure that the policy is regularly enforced.
Without enforcing the policy on a regular basis, employees will soon realize that any policy your organization publishes can be easily ignored without consequences.
Enforcing a Clean Desk Policy doesn't have to be difficult. Use our free audit checklist and ensure someone in your organization does audits at least once per quarter.
We've created two types of audit checklists: one that prints on an entire 8.5×11″ piece of paper, and a "mini" one that prints four per page.
Clean Desk Policy – Audit Checklist (Full Page)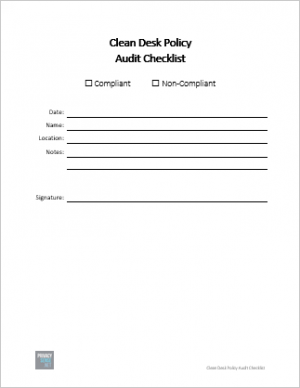 Clean Desk Policy – Audit Checklist (Mini – Four Per Page)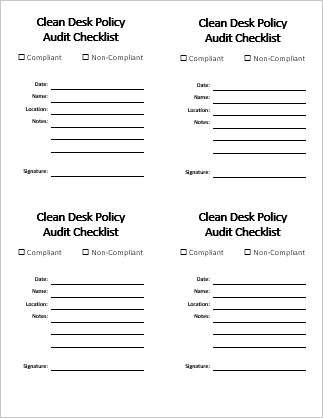 More Clean Desk Resources